A male friend reached out to me recently and asked for suggestions on what to do with his new- found girlfriend. He shared that they met while attending a food summit somewhere up in the Wine Country a few weeks ago. Geez, now why didn't anyone tell me about all that fun going on? Anyhow, I knew right away that food and wine would be a part of what I'd suggest, because I already had insight on what she enjoyed. However, beyond the obvious I wanted to share with him other suggestions which wouldn't cost a fortune, as he'd expressed that he was interested in this young lady and that he wanted to make an impression, but one that he could hold to as time rolled on.
As he raved on about this young lady, he asked how to show her that he was interested in her. Well, aside from simply telling her, I suggested he make it known of course first, just by reiterating it. Guys sometime get discouraged in doing this one very important thing because they don't want to seem like the weakest link. They don't want to chase, as they have sincerely confused this term with its ugly fraternal twin know as, "running after." (Let that sit) What they forget is the dying art of courting. And to pursue, is to chase.
When you are interested in falling and having them fall with you so that you can rise together, you just tell her that you are interested. When she reciprocates in letting you know that she is interested as well, by accepting your advances for a 2nd and 3rd date…. There's nothing wrong with looking deeply into her eyes and telling her that she has an amazing smile and that you truly do enjoy getting to know and knowing her. It doesn't cost you anything to do this.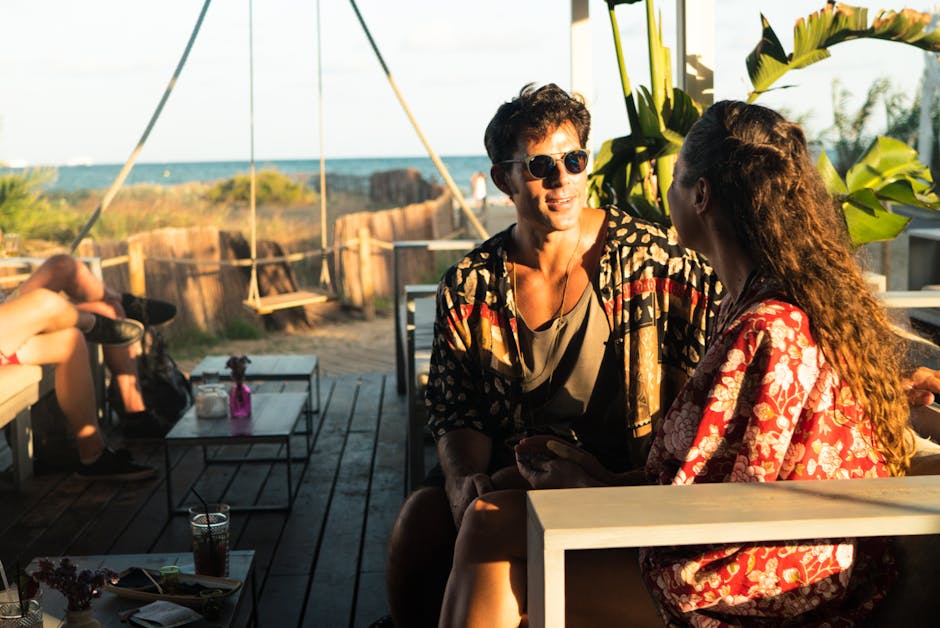 Showing your interest in someone does not take fine dining, exotic trips and wild adventures from week to week. Not at first anyway, and it's not a habit you want to form when you can't finance it. Those are luxuries that some can afford from week to week, when they have the time and finances. However, you can show your interest in other ways while at the same time, determining if this is a relationship that you can handle and want to continue to pursue.
Communication: In courting a woman, you are courting her mind as well. I would tell my friend just like I would tell any man who asks, once you've established between the two of you that you want to be in a relationship, beyond that it's building. You are constantly building and hopefully toward a common goal…and depending on what that is, you establish boundaries. IE: Is this an exclusive relationship? What are your intentions? Where would you like this relationship to go? Otherwise, I think it's counterproductive to say that you want to be in a relationship where you are building together- if you don't want a future together. So, the objective in the relationship during the building process should be to get to know one another on a level which would help you understand one another better and determine if the goal you started with, can be fulfilled in staying together.
You could compare this to an employer/employee relationship where benefits are equal upon entering an agreement for employment. Probationary period is followed by a commitment to hire. Once employer demonstrated loyalty to their employee and vice versa, the relationship grows into the next level. Pretty soon, your entry level title turns into tenure. You are making an investment in each other, providing benefits, perks and incentive.
How does this translate in dating? When you invest in a woman with conversation, understanding, commitment and loyalty, in exclusively dating her, she will make you a great return on that investment.
What You do to get her: Yes, what you do to get her you will have to do to keep her is a very valid statement. As this pertains to material things, I mentioned that it is not wise to start something you cannot keep up with. (A drastic change in financial status is the exception) And a woman whom you have made the above investments in will understand. In Application: You want to be careful while you're trying to impress/make an impression, not to make the wrong impression by doing something you can't do, if your intent is to pursue something long-term. (Another exception here are those once and twice in a lifetime type ventures… yes, you can knock off extravagant bucket list items together and have an understanding that this is not something you will be doing often) But most importantly, if you attract her by opening doors for her-you need to keep this up.
While you are getting to know her, you are paying attention to the things she talks about… if you are listening, you will hear her tell you everything. When you show up with a white Carnation over a red rose, she knows that you heard her when in regular conversation she expressed that she's the type of girl who prefers carnations over roses. That's impressive – because she now knows that you have a vested interest in learning about her.
Those luxurious trips etc. will come over time… in building. There's no need to take someone on a $10k vacation when you know it will take your life savings and could be over when you return, because while on the trip with someone you just met 2 months ago, you realized yawl were worlds apart on what you want in life.
Get an understanding of all these things beforehand. That's what dating, and courting is. It's doing the things that you will be consistently doing. Its' showing someone what they are signing up for. Now if you can afford the $10k vacays week to week and keep that up if the relationship transpired beyond the next 6 months then more power to ya. Don't try to compete with the next man. If someone else can do for her something that you can't, and it's something that she requires, and she tends to lean toward, you need to be paying attention. It doesn't make her a bad person, it just means that she's not right for you or may not be right for you right now.
Adore her
Hold hands/ Forehead kiss/stare in eyes not face/write her letters
Show her respect/be respectful in private and public places
Be playful with her/ Laugh, joke & match humor
Walk close together/Go out together/ Take her to the Park/ Take her to the Lake
Play ANY sport together
Go to the Gym together
Open EVERY door EVERYTIME
Protect her/ give her your jacket when she's cold/ keep her safe/ comfort her
Attend the Family get together and outing, together
Have Cookouts at your home together/ cook for her
All, are Things that won't cost a fortune to maintain in the dating/courting process
The girl who appreciates these things is the type of girl who treasures the connection, the bonding, the quality time, the love and the chemistry more than being able to take your credit card and go to the mall. She would rather you be there with her to relish in the excitement together. Sure, she likes wonderful things and won't turn down a gift, but she would choose to have you with her if it boiled down to having to choose one over the other.
She wants your love, not your money. She wants your time, not your gifts. She wants your presence not your presents. She wants your company not your absence. She doesn't need you to validate her, she needs you to validate the relationship – She wants you to initiate and show her that you know how to lead…she wants your commitment.