Has your girl been dropping subtle hints about date night? Here's what you need to know, to prevent a fight.
1. Date nights with your partner are important to the relationship. It doesn't matter if you're courting someone and looking for it to blossom into something more, or if it's your wife of many years, your girlfriend of a few months. All women want date night.
2. Date nights aren't exclusive to one idea. Meaning, dinner and a movie aren't the only two choices for spending time with your partner. Change it up- go to a concert or a play, make it a night at the museum, or a dessert bar instead of a 6-course meal.
3. Date nights are your opportunity to get the fire burning, keep the fire burning, or both; under the discussion of intimacy in the relationship. Intimacy isn't just sex. Intimacy extends in mental stimulation, touching, holding hands, being affectionate and paying attention to your partners emotional needs.
4. Try to make your date night happen, with as few distractions as possible. I realize if you're on call as a medical profession, you may need to keep the pager on your hip. And I realize emergencies happen, where the sitter interrupts for instructions. Aside from emergencies, turn the phone on silent, put it in your purse, get off social media, put down the emails for this special evening with your partner.
5. Date night does not have to be on the weekend: Of course, it depends on schedules. Some couples take advantage of mid-week opportunities to steal away for a few hours and enjoy one another's company. If you are looking at weekdays or weekend as an impossible solution, you're only using one side of your brain. Date night is whatever day you make it and the schedule for it can change weekly/monthly. Just make sure it happens.
6. Date night does not have to entail a fancy evening, which would cost north of$200.00. Especially if you are doing date night once a week, like most women have expressed they want it. It is not always necessary to roll with a white linen table cloth evening, which would also require dressing the part. Date night can consist of fashionable denim apparel or whatever you make it. BBQ, Concert, Special Event, Chipotle, Chili's or even an exclusive bar for drinks and appetizers.
7. On very rare occasions, should you double date on date night with your significant other. Some couples want the luxury of having that private moment to discuss private affairs, as well as keep the conversation going, on things that matter to them, when it comes to strengthening the relationship. However, some couples consider the double date, because it kills two birds with one stone, when allowing them to spend time with their friends.
8. Do not take your parents on date night. On rare occasions, couples have that kind of relationship with the in-laws. However, in a lot of cases, they don't. Even if they do, when parents are present, it somewhat limits the topics of discussions, as you may want to maintain privacy in the relationship, as it pertains to intimate affairs, including: finances, health, children, family, sex-life. Then again, some people value the advice they get from their parents. So, use discretion.
9. Date night is that private moment, where you keep the love alive. It's dating each other, as you did when you met. Its blowing life into the expression: What you did to get her, you will have to do to keep her. It keeps things fresh. It makes her feel like she's still wanted and desired, and still worthy of your time to be taken out on a meaningful date, where you are trying to woe ad impress her.
10. If there are serious matters that need to be discussed regarding finances, please do not absorb the entire date time in doing do. Speak on it, get to an understanding and move on, with an understanding. If you can't, then carve out some time for later in the week, or the next day to discuss if it must be done in private, away from the kids.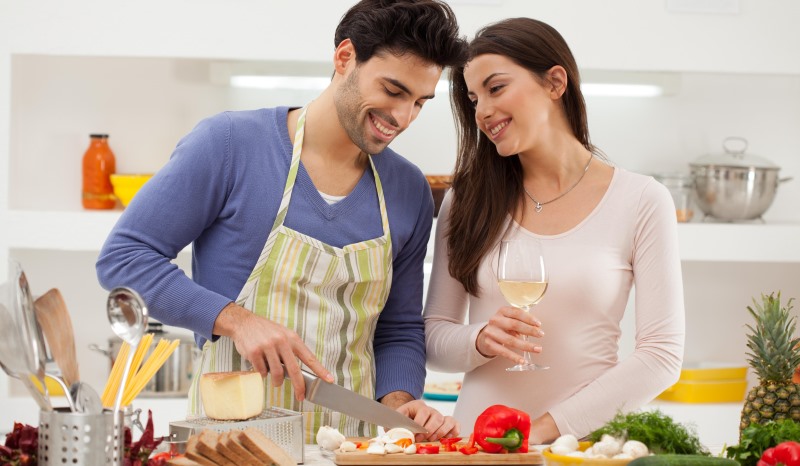 Note: Statistically, one of the number one reasons that marriages end in divorce, is over finances. I remember going out to eat many moons ago, with my boyfriend in college. I remember overhearing the older couple in the booth next to us, argue about finances and who pays for what… so on and so on. They appeared to be around their early 40's. It was funny to us, at the same time, but it was a glimpse of what life could easily become if these things as such, were not discussed. We vowed that if we were to stay together, we would not do this. We would give attention to the subject and be financially conscious. At the end of the day, we would not find ourselves in a booth at Red Lobster, arguing about who will pay the bill.
All that to say, date night could also be spent in the privacy of your own home, without spending much at all. Be creative. Make it intimate. Keep it fun. A nicely prepared meal, done together, can create the atmosphere for the perfect date; which still ignite/reignite the fire. In other words, don't break the bank and cause the ship to sank'.